Oil And Gas
Reserve is an oil and gas exploration company that has identified, leased and explored over a million acres of prospective oil and gas leaseholds in the Appalachian, Michigan and Illinois basins. Reserve has participated in both conventional and unconventional wells throughout Ohio, New York, West Virginia and Pennsylvania.
The Reserve team has eighty-five years of combined experience in the oil and gas industry and has been an active participant in conventional and unconventional oil and gas development throughout the eastern United States. Reserve's team has been active in local and national professional organizations including the American Association of Petroleum Landmen (AAPL), Ohio Oil and Gas Association (OOGA) and the Michael Late Benedum (MLBC) Chapter of the AAPL.
Reserve has been very successful in identifying untested reserves and securing the drilling rights with significant potential in both the conventional and unconventional fields. Reserve takes pride in our collaborative relationship with industry partners and mineral rights owners.
Conventional
Conventional Oil and Gas is simply known as traditional vertical drilling for natural gas and crude oil. After a well is drilled and completed, oil and gas is extracted by the natural pressure and artificial lift systems. The conventional oil and gas industry has been instrumental in the providing businesses and individuals the fuel needed to drive the economy. Conventional oil and gas has been produced since the late 1800's and the leaders have pioneered many technologies. Strong domestic oil and gas production has been instrumental in the industrial revolution and national security.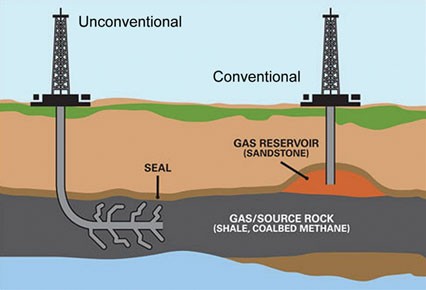 Unconventional - Shale Exploration
Unconventional exploration utilizes vertical and horizontal drilling to unlock resources from the shale. Horizontal drilling and advanced steering access hard to reach reservoirs and can produce a significant amount of oil or gas. The Reserve team has been active in the Marcellus and Utica/Point Pleasant exploration programs in Ohio, Pennsylvania and West Virginia.
Stranded Natural Gas
Natural gas wells that are drilled and cannot get the gas to market are considered stranded. Reserve is developing ways to get the natural gas to market in stranded wells using generators to create electricity for the grid or for data centers.